Golf Outing Packages
Event Planner: Want to impress your customers, employees, co-workers or friends? Look to Fox Ridge to help plan your next golf event! Our professional staff specializes in charity golf events, large corporate outings and small company groups.Fox Ridge Golf Club is the premier golf and banquet facility in the Cedar Valley. Fox Ridge Golf Club has Country Club amenities at public golf course prices. We are the first choice for many business and charity golf events for the following reasons: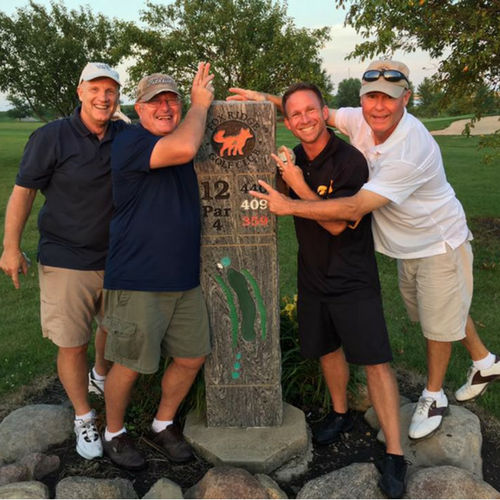 Fox Ridge is the best 18 hole championship public golf course in the Cedar Valley. You and your guests can expect great conditions all season long. We have a large driving range to accommodate all golfers before the round begins.
We are the only golf course with a 300 seat banquet room and an in-house chef. This makes it easy to host a dinner for a 144 person golf event comfortably. Chef Jen can sit down with you to design a meal that fits your budget. Great food is just as important as a quality golf course!
Fox Ridge has 60 golf carts on hand at all times are very important because we can accommodate most events without renting extra carts.
Keeping your guests satisfied before, during and after the round is our top priority.
We have several golf, food and beverage packages that will fit your group needs.
Included Options:
18 Hole Green Fee
Tournament Registration
Golf Cart Fees
Range Balls before Play
Cart Identification Tags
Flag Events (Pin Prizes)Rules Announcement
Custom Scorecards
Registration Set-up
Custom Scoreboard
Beverage Cart
Post Results to social media upon request
Looking for country club amenities with CFO approved pricing? Fox Ridge is your Course...